Falaknuma Palace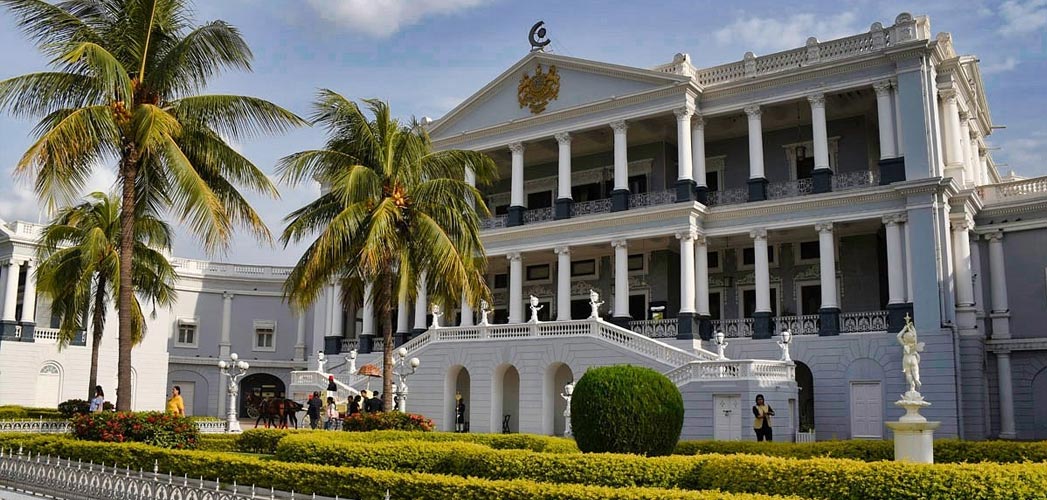 One of the most conspicuous attractions of Hyderabad, Falaknuma Palace is the epitome of royalty. Falaknuma is an Urdu word meaning 'Star of Heaven'.  The foundation of this grand and stunning palace was laid in 1884 by Nawab Vikar-ul-Umra, the then Prime Minister of Hyderabad. The palace offers amazing views of the city.
History
The palace was built in nine years. In the year 1897, the palace was sold to Nizam VI who used it as a royal guest house. Later the Nawab gifted the palace to Mehboob Ali Khan(Nizam of Hyderabad). Special Guests like King George V, Queen Mary and Queen Victoria have been hosted in this palace by the Nawab.
Architecture
Fashioned in the form of a Scorpio(as Scorpio was the zodiac sign of the Nawab who built it), the palace was designed by an Italian architect. A perfect blend of Italian and Tudor architectural styles, the palace enchants visitors with its breathtaking beauty. The palace was made in Italian marble.
Attractions
Leaving the onlookers spell bound, the arresting ceiling of the state reception room in the palace is very attractive. It boasts of beautiful frescoes and glided reliefs. The ballroom has a huge manually operated organ, which is said to be one-of-its-kind in the world. The opulence of the palace even reflects in the crystal handles of the wardrobes.
There are 220 opulent rooms and 22 huge halls in the palace. The palace is majestically decorated with rare paintings, statues and furniture. There is also a rare collection of manuscripts and books.
The Jade(an ornamental stone) collection of the palace is something, which should not be missed at any cost. It is simply unique and fascinating. The staircase showcases amazing historical pictures. The glass stained windows of the palace are truly mesmerizing.
The wonderful dining hall of the palace can accommodate around 100 guests on its dining table. The chairs were carved out of rosewood and the tableware were made of gold and crystal. There is also a library in the palace, which has a walnut carved roof. The roof resembles the roof of the Windsor Castle. The palaces boasts of the largest collection of Venetian chandeliers. Another interesting attraction of the palace is a switchboard, which is the largest electrical switchboard in India.