Golconda Fort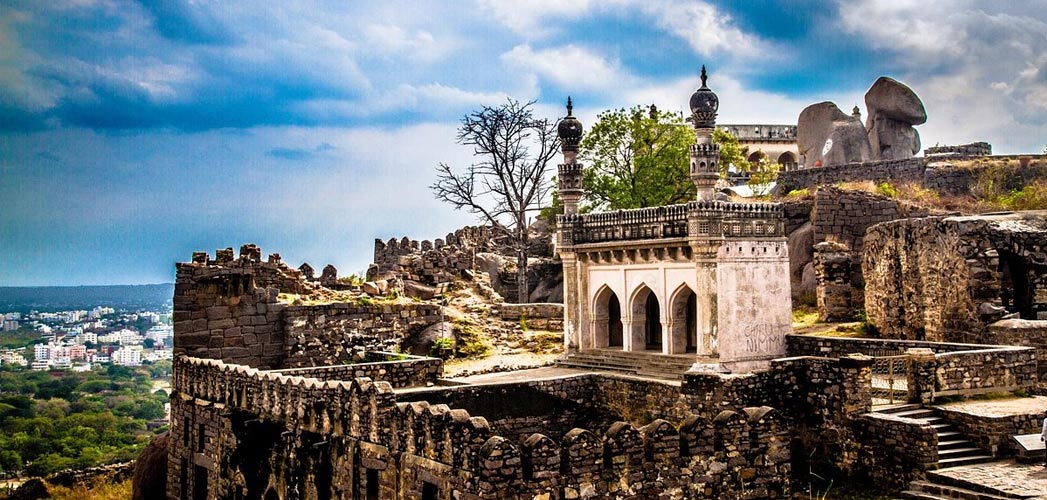 A major attraction of Andhra Pradesh, Golconda Fort is an arresting monument. Located in Golconda, a ruined city located west of Hyderabad, the fort is visited by almost all tourists coming to the state. Reflecting the royalty and grandeur of the era of Nawabs, the fort was built by Mohammed Quli Qutub Shah around 400 years back.
History
The fort got its name from a Telugu word 'Golla Konda' meaning 'Shepherd's Hill'. The legend goes that a shepherd boy came across an idol on the hill. When this news reached the then Kakatiya dynasty ruler, he decided to construct a mud fort on the sacred site on the hill. Later new fortified structures made in granite were added to the fort by the Qutub Shahi rulers. Golconda was also known for its diamond mines and diamond trade.
Architecture and Attractions
Nestled on a 120 m high hill, the fort has a 10 km long outer wall. The fort encompasses several structures such as the royal apartments, halls, temples and mosques.  All the apartments in the fort were well ventilated. There are eight gateways, out of which Fateh Darwaza (Victory gate) with huge iron spikes is quite notable. The purpose of these iron spikes was to prevent elephants(during battles) from entering the fort. Here you can also experience the exciting acoustic effects.
If you clap your hands at a particular point below the dome at this gate, the sound reverberates and can be heard clearly at the 'Bala Hisar' pavilion, which is the highest point around 1 km away. This technique was used as a warning signal to the kings in case of an attack.
One of the major attractions of the fort is the secret underground tunnel, which starts from the Durbar Hall and ends in one of the palaces at the foot of the hill. The beautifully carved tombs of the Qutub Shahi kings are located 1 km north of the outer wall of Golconda.
The light and sound show dramatically depicts the story of Golconda. It takes you back in time. The show is presented in three languages-Hindi, Urdu and Telugu. This show is organized by Andhra Pradesh Tourism.