Cochin ( Ernakulam )
| | |
| --- | --- |
| Location | Ernakulam district of Kerala |
| Main Attractions | Temples, Chinese fishing net, spice market and Dutch palace |
| Languages Spoken | Malayalam, Tamil, English and Hindi |
| Climate | Average temperature ranges from 20°C-35°C |
| Best Time to Visit | Throughout the year |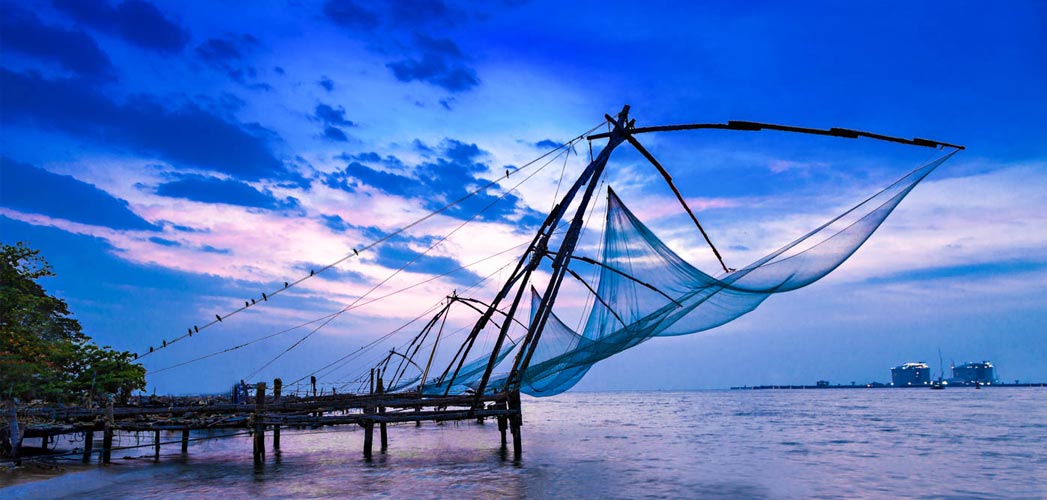 Cochin (also known as Kochi) occupies an important place on the map of Kerala. Located in the beautiful district of Ernakulam, Cochin is the second largest city of the state. The city holds a lot of commercial importance and is one of the main seaports of the country. The city is popularly know as the 'Queen of Arabian Sea'. It is a city which is dotted with a variety of amazing attractions.
History
Cochin is also famous for its spice market since the 14th century. During the ancient times, this city used to export spices to Greeks, Romans, Jews, Arabs and Chinese. The history of the kingdom of Kochi dates back to the year 1102.
Main Attractions
Temples
Cochin houses several Hindu temples, each having its own legend to tell. Built beautifully, the temples draws devotees and tourists from far and wide. Several interesting festivals are celebrated in these temples with great fervor. Some of the known temples of Kerala are Guruvayur Shri Krishna temple, Vadakkunnathan temple, Ananthapura lake temple and Sabarimala temple.
Dutch Palace
Known for its architectural beauty, Dutch Palace was built in the 17th century. Its walls decorated with beautiful murals and floor made from the mixture of burned coconut shells, lime, charcoal, egg white and plant juices are the most striking features of the palace. Even its ceiling look fabulous.
Jewish Synagogue
Praised highly for its tile work, Jewish Synagogue was built in the 16th century. All the tiles used in it were hand printed, which were imported from China. And no two tiles were same.
Chinese Fishing Nets
Used for an unusual fishing, Chinese Fishing Nets are made from teak wood and bamboo poles. They look very beautiful.
Shopping
Cochin has many malls where a variety of branded items are available. But the most popular shopping items of the city are the spices and Coir products.
Accommodation
Being a commercial city and a famous tourist destination, Cochin offers a variety of accommodation options ranging from luxurious hotels to budget hotels.
How To Reach
By Air: The airport at Cochin connects it to the major cities of the country.
By Rail: The railway stations at Cochin make it easy to reach there from the main cities of the country.
By Road: Cochin is also easily accessible from all the major cities of South India and the country.