ISKCON Temple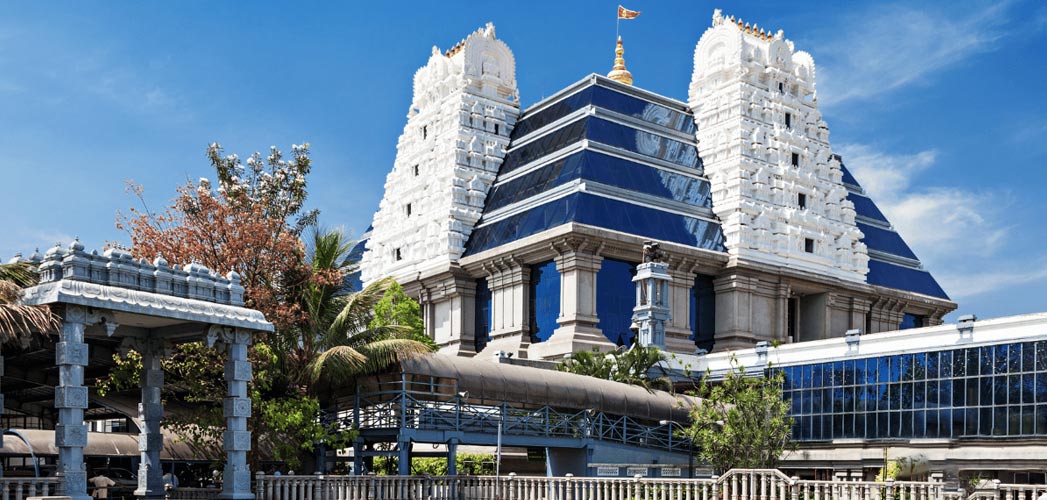 Built in 1997 on the west of Chord Road, the ISKCON Temple in Bangalore boasts of being the ISKCON's largest temple complex across the World. Dedicated to Sri Sri Radha-Krishna, the temple is also known as 'Sri Sri Radha Krishna Chandra Temple'. The most fascinating part of the temple is its neo-classical style of architecture.
The construction of this huge shrine was started under the global project of ISKCON to memorialize the birthday of its founder, Sri Prabhupada. Later, in May 1997, it was inaugurated by Mr. Shankar Dayal Sharma, former President of India.
Major Shrines
The richly decorated Rajagopuram is the main shrine in the temple complex. It is escorted by beautiful ornamental arches and illuminated water jets. This main shrine comprises the superb idols of Sri Sri Radha-Krishna. Apart from that, the temple also comprises four additional shrines dedicated to Sri Sri Krishna Balrama, Sri Nitai Gauranga, Sri Prahlada Narasimha and Sri Srinivasa Govinda respectively.
Architecture
The main hall of the temple, covering an area of 10,000 sq feet, is festooned with remarkable paintings made by the Russian painters. The actual beauty of the temple lies in its lush green gardens and open amphitheatre, where various festivals and concerts are organized.
'Janmashtami' is the major festival that is celebrated here with loads of enthusiasm and devotion. The temple offers a bowl of 'Khichri' (made of rice and pulse) to its each visitor as 'Prasadam' (holy food).

The Multivision Cinema at ISKCON is a recently added feature to the temple, which is the first show combining visual projection and animatronics in India.

The temple runs a project called 'Goloka Seva Trust', which involves the promotion and maintenance of the valuable art of incense (agarbatti) creation. These incense sticks are made by pure natural ingredients.
The temple was designed by mingling the elements of traditional South-Indian with contemporary style of architecture. The entire credit for the wonderful designing of this temple goes to the ardent devotees Madhu Pandit Dasa (President and Project director) and Jagat Chandra Dasa.