Ekambareswarar Temple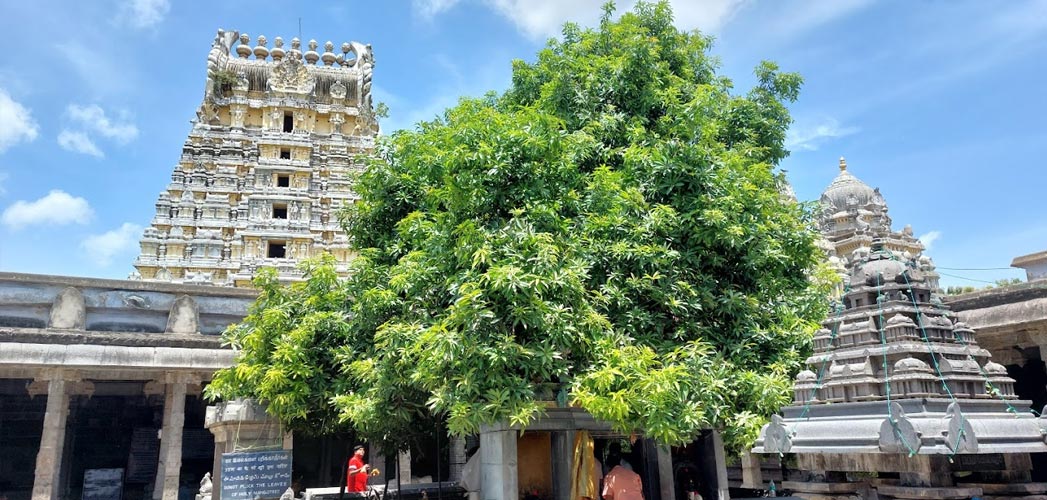 A symbol of earth, one of the five elements of the Universe, Ekambaranathar Temple stands tall with its 172 feet high gopuram, which is one of its striking features built by the Vijayanagar king, Krishnadevaraya. Built in honor of Lord Shiva in the year 1509 by the Pallavas, the temple is one of the 108 Divya desam for Vaishnavites. Later the Cholas and the Vijayanagar kings made their own share of contributions to the temple. There is also a separate shrine in the temple dedicated to lord Vishnu who is worshiped here as Vamana Murthy.
Covering an area of 40 acres, Ekambareswarar Temple has an extremely beautiful mandapam known as Aayiram Kaal Mandapam or the 'hallway with a thousand pillars'. This was also built by the Vijayanagar Kings. The inner walls of the temple are adorned with as many as 1,008 Shiva lingams. The arrestingly carved sculptures on the gopuram tell interesting Hindu mythological stories. The vahanams of the temple are silver and gold plated, which look amazing.
One of the most interesting features of the temple is the Sthala-virutcham, a 3,500 years old mango tree, which bears four different types of mangoes. According to the legend, once goddess Parvati worshiped lord Shiva in the form of a Prithivi Lingam( a Lingam made of sand) under this mango tree.