South Indian Cuisine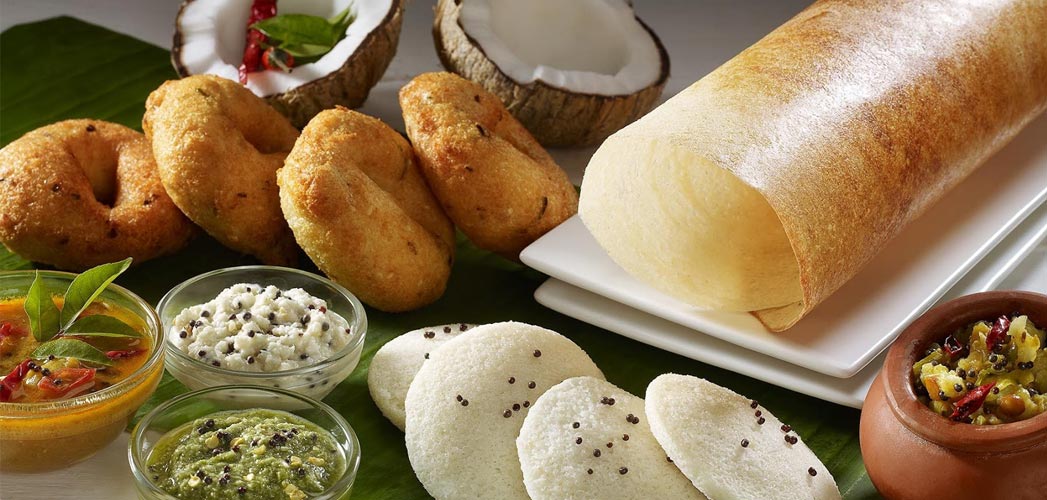 The Hottest Of All Indian Food..
Searching for a food that is a brilliant amalgamation of taste, colors, seasoning, nutritional balance, aroma, savor, and visual appeal? Your search ends with south India food. The entire belt of south India, being a coastal region, receives heavy rainfall. Due to this, the supply of fresh fruits, vegetables and rice is abundant. Meals in south India are generally centered around rice. These rice based preparations are served with sambhar (dal), rasam (tamarind dal), dry and curried vegetable and pachadi (yogurt), meat dishes and a host of coconut-based chutneys and poppadums (deep-fried crispy lentil pancakes).
Different Styles Of Cooking
Almost all the south Indian states have developed a different style of cooking. For example, Andhra Pradesh is known for typical fiery Andhra cuisine, which is largely vegetarian. Hyderabad is known for regal Nizami food, which is rich and flavorful because of nuts, dried fruits and exotic & expensive spices like Saffron. Similarly, Tamil Nadu has developed its unique Chettinad cuisine (perhaps the most fiery of all Indian food), which is also largely vegetarian. Kerala serves the best of Malabari food with a variety in seafood dishes.
Kerala Cuisine
Most of the curries are prepared with coconut milk. Apart from that, 'Kacchiamoru' (buttermilk mixed with turmeric and spices) is used for pouring on dry dishes. Puttu (made of steamed rice powder) and Vallepam (pancake made of fermented rice paste) are famous in Kerala. Besides, Idli, Dosa and Uthapam can be found everywhere in Kerala.
Tamil Nadu Cuisine
The locals here are very fond of filter coffee. In main course, you will find a huge variety in Dosa (rice crepe), Idli (salty steamed rice sponge cakes), vadas, sambhar, and Rasam. When it comes to non vegetarian food, fish, mutton and chicken are served with that extra zing that makes them these dishes the best among the rest. The Chettinad pepper chicken is another specialty in non vegetarian food.
Andhra Pradesh Cuisine
Andhra Pradesh offers both vegetarian and non vegetarian items. The cuisine here is categorized as Old Andhra cuisine and Hyderabadi cuisine. Hyderabadi is popular for its Mughlai taste, while Andhra cuisine is hot and spicy. Rice is again the main food which is served with Sambar and lentil. The traditional Andhra cuisine is served on banana leaf and is eaten by sitting on ground.
Karnataka Cuisine
Blessed with a rich culinary heritage, Karnataka is known for chicken curry, pancakes, fish delicacies, Patrode, rice rotti, red-grained rice, Akki rotti and many other items. Rice, raggi and jowar (millet) are the three staple items in Karnataka. Kootu, Saaru (a clear pepper broth), Obattu and Chitranna (rice favoured with lemon juice, green chilli and turmeric powder and sprinkled with fried groundnuts and coriander leaves) are the formal meals. Puris made from wheat flour are served along with pappads and pickle. Other popular specialties are Bisi bele bath, Uppittu, Mysore masala dosa and sweet dishes such as Obbattu or Holighe.
Pondicherry Cuisine
The Pondicherry cuisine seems to be highly influenced by the French as they ruled here for a long time. You won't find much oil in their preparations. You will be served Italian salads, French food, Chinese and north Indian food. Coconut curry, tandoori potato, soya dosa, curried vegetables, stuffed cabbage and Italian baked beans are included in the specialties.
This rich and exotic array of rice based preparations draws countless tourists from all over the world. South Indians are great lovers of filter coffee. You will find a number of chutneys here that are made of tamarind, coconut, peanuts, dal, fenugreek seeds, and cilantro. These are served with the main food items.